Nightcrawler and Batman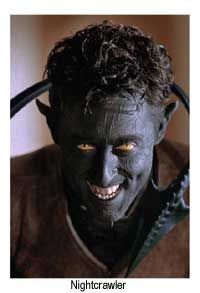 Bamf!
And
Nightcrawler
is gone.
News from
Alan Cummings
personal website
that he will not be appearing in
X-Men 3
, Fox is not picking up his option. Cummings my be relived after the adruous make-up process on
X-Men 2
.
The question is, is there no
Nightcrawler
in this film or are they recasting the role? I guess we'll have to wait and see.

Batman Begins
a new francize. The film did so well there is nearly no dout that will will see a second film. Warner Bros wanted two successful films from both
Batman
and
Superman
before entertaining the idea of a
Batman vs. Superman
film but don't be suprised if the second film of both lead twords a clash of the titans.