Wolverine vs. Superman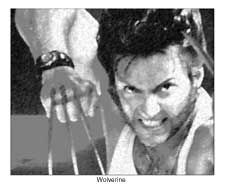 Hugh Jackman

has set up a new production company at

FOX

, with partner

John Palermo

. The first look deal for FOX will start with

Wolverine

writen by

David Benioff

, who wrote the soon to be filming

X-Men 3

. A first draft on Wolverine is due to be in Jackman's hands shortly. Filming could start shortly after X-Men 3 wraps and put the film in theaters in late 2006 or early 2007. On the subject of X-men 3 Jackman says, "It got to be a roller-coaster ride there, but I wasn't worried because the script is so strong...

Brett (Ratner)

has come in with a lot of enthusiasm and full understanding of the franchise."



From Austrailia,

James Marsden

is taking a break in his shooting of

Superman Returns

, and commented on the up-comming

X-Men 3

. "Sure, it's getting down to the wire. It's getting close. We've got to make this movie. But we've done two before and there's a comfort zone in there that we all feel like we've done it and we can do it again.

Matthew Vaughn

fell out for personal reasons or family reasons.

Brett Ratner

is directing and he's a very competent director and I think we'll be fine." Marsden still doesn't know what part he'll play if any.