More Comics coming to Film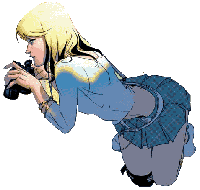 It was announced today Illuminati Entertainment, a Hollywood management and production company focused on clients and projects from comics, for representation in film, television, and video games, has signed 12 Gauge Comics, the publisher of such hit titles as The Ride, and GunCandy. 12 Gauge Comics is published under Image Comics.
12 Gauge President Keven Gardner and Managing Editor Doug Wagner will be working closely with Illuminati Entertainment President Ford Lytle Gilmore in an arrangement that gives 12 Gauge a powerful Hollywood presence and will allow them to move their projects to mediums beyond the printed page. Illuminati Entertainment's most recent sale is Catacombs, co-written and directed by client (and comic book creator) Tomm Coker for Lions Gate and Twisted Pictures.
"12 Gauge has some of the most exciting and original projects in the comics industry right now, and everything on their publishing slate has a populist that will stretch well beyond comics," Gilmore said in a press release. "Titles like GunCandy and Body Bags are all natural fits for feature films, as are a number of the stories in the anthology The Ride -- and I'm just as impressed by the titles on 12 Gauge's schedule that they haven't even announced yet. We're ecstatic to be working with them and helping them expand their audience."